Concrete Answers Series for Architects, Engineers and Developers |
Click here for more answers
Concrete Paths
Durability
Eight-foot blacktop trails installed eight years ago are only 5 feet wide today because the edges have crumbled away. Moreover, blacktop surfaces tend to 'dome,' making it difficult to perform such maintenance functions as snowplowing or cleaning.
—Tim Merriman, Executive Director of Greenway and Nature Center of Pueblo, CO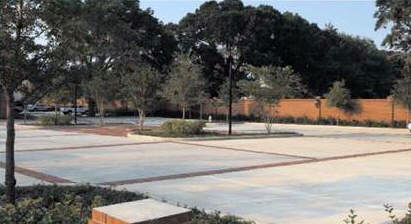 City streets, sidewalks, and parking lots that are paved with concrete offer clear indications of the toughness and durability that only this remarkable material can deliver. Decades of proven performance in thousands of communities across the nation demonstrate that only concrete can withstand the harshest environments and the heaviest traffic. From freezing winters to scorching hot summers, concrete is the only option for a long-lasting surface for both vehicular and pedestrian traffic. Just imagine how effective it can be for your bike paths and multi-use recreational trails.
All good reasons that concrete has also been the building material of choice in landscaping for heavily-used urban and garden paths, footpaths in country parks, rural trails and other recreation areas, and riverside paths.