Concrete Answers Series for Architects, Engineers and Developers |
Click here for more answers
Concrete Paths
Cost Less to Maintain
Concrete provides sustainable construction and resourcefulness of product.
It is economically responsible.
—David Ciaccio, Registered Landscape Architect Principal, Ciaccio-Dennell Group, Omaha, NE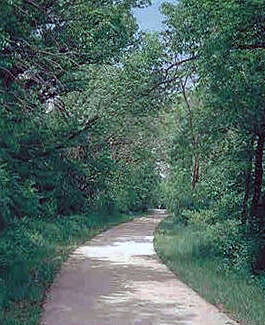 For parks and recreational areas, limited budgets are a fact of life. Nothing beats concrete as an affordable and cost- effective paving material for bike paths and recreational trails. It offers a tried and true alternative to the seemingly endless cycle of resurfacing, overlaying, seal coating, spot and pothole repairs, crack sealing and patching that comes with asphalt pavement. The simple fact is that concrete is the smart, money-saving solution to ending maintenance problems (see graph below).
When considering capital investment for recreation trails, one must consider long term maintenance costs. Maintenance costs considered, concrete is the best investment for the taxpayer.
—Steve Oltmans, General Manager for the Papio-Missouri River, Natural Resources District
All good reasons that concrete has also been the building material of choice in landscaping for heavily-used urban and garden paths, footpaths in country parks, rural trails and other recreation areas, and riverside paths.