Concrete Answers Series for Architects, Engineers and Developers |
Click here for more answers
Environmental Benefits
"Green" Features of Concrete Parking Lots and Pavements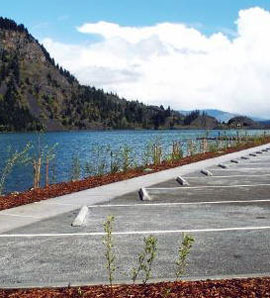 Concrete parking areas and pavements are environmentally friendly in many ways. Concrete's light-colored surface both reduces "heat island" effects and lowers lighting costs due to its high albedo. Its cooler surface results in cooler stormwater runoff, which benefits streams and lakes. Pervious concrete, a specialized concrete innovation that is being implemented in many parts of North America, allows rainwater to pass through and thereby supports ground water recharge and tree growth. It may also eliminate the need for traditional stormwater management systems such as retention ponds and swales.
Concrete parking lots and pavements are also "green" because they support recycling in that they can be made using by-products from manufacturing and power plants, reducing landfill needs. The service life is measured in decades, but when the end finally comes, concrete can be crushed and recycled as a high-quality aggregate for hundreds of applications. Concrete is also green in that it is manufactured locally, and unlike asphalt, it produces no toxic runoff.
Eco-friendly characteristics like these help concrete parking lots contribute to important LEED credits. The LEED Green Building Rating System, Version 2.1, promotes environmentally conscious buildings for the improvement of outdoor and indoor building quality and the reduction of waste during the building process. Concrete can be used in conjunction with the LEED program to earn a LEED certification.