Concrete Answers Series for Architects, Engineers and Developers |
Click here for more answers
Fast Placement, New Technologies
Keep You on Schedule... or Ahead
Job size, turnaround time, equipment technology, labor intensity, and surface smoothness are crucial factors in selecting a system for placement and finishing. No matter what the method, you can get all the advantages of concrete and still complete your project in record time.
Concrete paving technology continues to advance, making concrete construction quicker than ever. Innovations such as slipform paving machines offer the highest production rates of any construction method, and yield uniform, durable surfaces. Technologically advanced finishing methods like laser screeding combine precision and speed to produce the highest-quality results.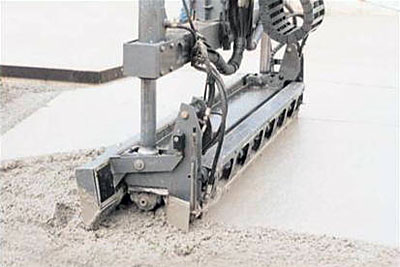 Concrete parking delivers speed and lower installation cost.
Concrete pavement technology is continually improving.
Laser screeds speed up placement time, improve accuracy and reduce labor costs.