Concrete Answers Series for Architects, Engineers and Developers |
Click here for more answers
Concrete Overlays
Ultra-Thin Overlays
Durable, Fast, Competitive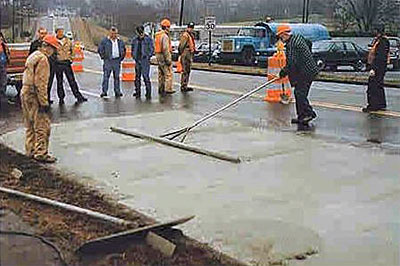 Ultra-thin overlays for streets and parking lots is a no-compromise material that delivers the long life and superior performance characteristics of concrete at a price competitive with asphalt overlays.
Although concrete is widely acknowledged as the strongest and most durable paving material, budget constraints often prevent it from being chosen for pavement maintenance and repair projects. Now, with the development of ultra-thin overlays, the superior performance of concrete can be achieved with fewer tax dollars. Overlays made with this high-strength, fiber-reinforced concrete product require a thickness of only 2-4 inches, resulting in low cost and simple, fast installation.
The process and technology of ultra-thin overlays evolved from conventional overlay methods. Over the past 30 years, overlays of 4-20 inches have yielded exceptional results in the rehabilitation of asphalt parking areas, streets, highways, and airport runways. In the late 1980s, researchers developed ultra-thin overlays by reducing the thickness, reinforcing the material, and redefining the joint spacings of standard overlays.
In 1991, this new technology was put to the test in a Louisville, KY parking area. Since then, more than 250,000 square yards of ultra-thin overlays have been placed throughout North America. Offering the best solution for today's overlay projects, only ultra-thin concrete overlays deliver a combination of benefits that include:
Durability Research indicates that ultra-thin concrete overlays last 2 to 3 times longer than asphalt overlays.
Strength Reinforced with synthetic fibers, the concrete develops strengths upwards of 3,000 psi
Appearance Provides the superior appearance and cool light reflectance unique to concrete surfaces, and resists the rutting and "washboarding" that often appear within a year on asphalt surfaces.
Price Ultra-thin overlays are an affordable way to reap the many advantages of concrete pavement, and it is competitively priced with asphalt overlays.
Ease of placement Surface preparation is minimal, and paving can be accomplished with the same equipment used in conventional concrete installation.
Speed of placement With a curing time of less than 24 hours, most ultra- thin overlay projects can handle traffic within 1-2 days after construction.
Broad applicability Ultra-thin overlays are the ideal solution not only for parking areas, but also for city streets and intersections, local or low volume roads, and even general aviation applications such as taxiways, runways, and aprons.
Life cycle A properly-designed concrete overlay can be expected to provide 20 to 40 years of low-maintenance service.